Digital theater as a collective experience.
International audiences sharing the same space.
Encounters in a fictional city.
Conversations leading towards Utopia.
Theater and gaming at the same time.
All this is possible with MAP TO UTOPIA.
#despite_Corona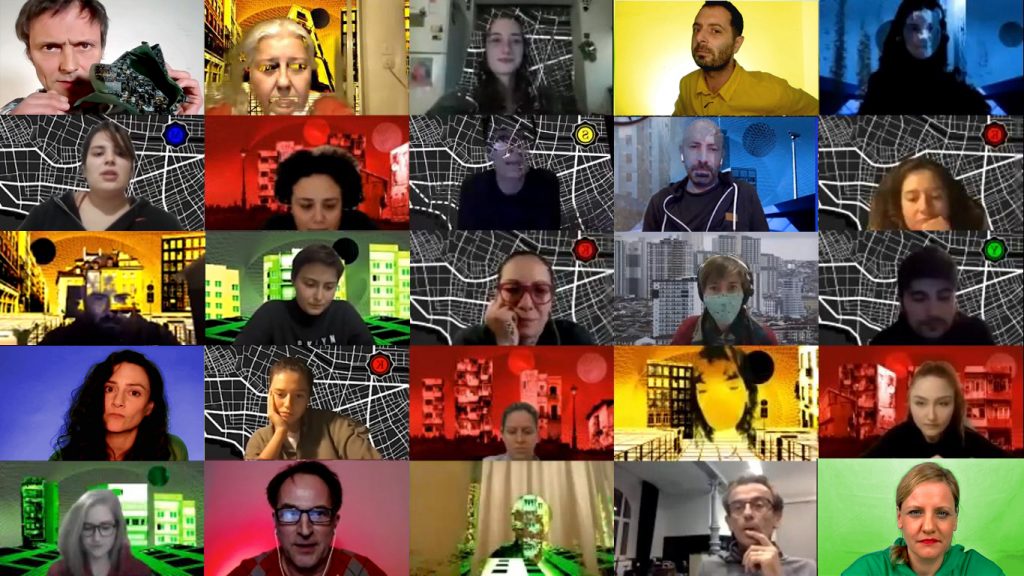 digital, interactive performance
by fringe ensemble and Platform Tiyatro
Fri 19th March 2021 │ 7 p.m. (CET) │ 5,- € │ ticketlink
Sat 20th March 2021 │ 7 p.m. (CET) │ 5,- € │ ticketlink
check-in from 6 p.m. (CET) │ link to timezoneconverter
"Through Map to Utopia we recognize that the theater represents an important public space in which different ideas and discussions about daily life arise. […] undoubtedly the most experimental performance of the İstanbul Tiyatro Festivali." (tiyatrodergisi.com.tr)

What to expect Life in our cities will have deep influences on our future. But who will decide how we will live there? What is the impact of visible and invisible barriers on our urban life, how do they influence the internal structure and how can they be - at least partially - dismantled? In Map to Utopia we invite our audiences to a fictional but exemplary metropolis, consisting of four different districts. Accompanied by five performers you will take over the perspective of neighbours or urban developers, meet each other get into conversation.
"...an interactive experiment that traces theater back to its original political function as a communication space that connects play and reality in real time." (Deutschlandfunk Kultur)
What you need This interactive performance takes place digitally via Zoom. You need a computer or a tablet to join us in Zoom and a smartphone to use the app that was specially developed for this performance. You will find more detailed information on our homepage (www.fringe-ensemble.de) or on eventbrite.de, the webpage to buy a ticket.

"What remains is the amazing feeling of having stepped outside the door again and having looked a little outside the box." (General-Anzeiger Bonn)

MAP TO UTOPIA
Featuring: Gizem Erdem, David Fischer, Georg Lennarz, Laila Nielsen, Okan Ürün / Concept and artistic direction: Ceren Ercan, Frank Heuel, Mark Levitas, Annika Ley, Fehime Seven / Directed by: Frank Heuel / Dramaturgy, text: Ceren Ercan / Virtual design, costumes: Annika Ley / Game development and design: Fehime Seven / Sound design: Ömer Sarıgedik / Production: Mark Levitas, Jennifer Merten
Sponsored by Kunststiftung NRW, Ministerium für Kultur und Wissenschaft des Landes Nordrhein-Westfalen, NRW Kultursekretariat, NRW Landesbüro Freie Darstellende Künste, Goethe-Institut. Supported by MAKERSPACE Bonn, Silent Events, Bahçesehir University (BAU), Istanbul, BAU Art and BAU Game Design.